Tomorrow is Valentine's Day aka "National Singles Awareness Day". Bitter? Me? OK, maybe a little.
This is the fourth Valentine's Day I've been single. I don't agree with the commercialism of Valentine's Day, even if I was coupled up. I don't get excited about cuddly bears holding hearts, heart-shaped balloons, chocolates, red roses on the 14th of February.  What I mean is, if someone wanted to show me their appreciation, they should do it because they want to, on any (or every) day of the year, not because someone has dictated it is Valentine's day, so YOU MUST BE SLUSHY AND CUTE!!!!!  Besides, I probably wouldn't want to date anyone who thought it was romantic to buy cuddly toys, but that's just me.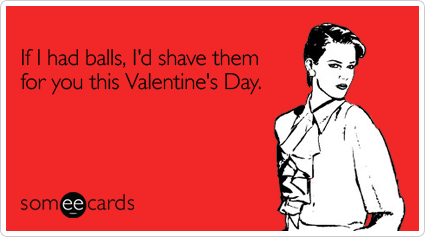 So the commercialism sucks.  But what really sucks, way more, is being single on V Day. Yeah, yeah, I'm complaining, but Valentine's Day gets so shoved in your face, making it more obvious how sad and lonely and unloved and mental you are.
Last year I found a bunch of suggestions on the internet on how to survive Valentines Day when you are single.  I'm reblogging because they made me laugh.
Make yourself a fuck-ton of cookies, and eat 'em all.
Make heart-shaped pancakes. Tearing them in half and eating them is delicious, barbaric, and therapeutic. Cover them with strawberry syrup so they look bloody.
Send yourself flowers or treat yourself to something nice.
Do something nice for yourself, and remember that Valentine's Day means we're halfway through the last full month of winter. Fuck winter and all of its frosty bullshit!
Do not watch rom-coms. I repeat it: don't watch rom-coms. You don't want to do it. All those movies have happy endings, and a happy ending now can lead to never-ending tears or immense anger. Don't do it.
Grab some popcorn and watch horror movies were the cute couples come to a sticky end (ie. The Devil's Rejects).
Take an overnight trip somewhere and treat yourself well, and pretend Valentine's Day isn't happening.
Hide under a rock.
Move back and forth across the international dateline to avoid it.
Take over the world, and declare an end to Valentine's Day.
Try to get abducted by aliens. Maybe the dating scene is better on Mars.
Move to Ethiopia – they've never heard of it there.
Whatever you do, don't move to Japan because they have two Valentine's Days there! On February 14, girls give boys chocolate, and on March 14, boys who've received chocolate from girls have to give some back.
Avoid social networks. Everyone has in their contact list someone who is madly in love and will post some cheesy glittery Valentine pic together with an annoying "I WUV UUUU" message.
Troll the happy couples. Go out for a romantic dinner by yourself. Every time you hear a couple near by getting intensely mushy, rudely interrupt them. Start with simple things like: "Can I use your salt?" Then raise the stakes.
Throw a Valentine's Day Massacre party. Dress up as your favourite mobster, police officer, or flapper, fill your bathtub (and Tommy water gun) with gin and put on some movies that feature it like The St. Valentine's Day Massacre and Some Like It Hot.
Make a date with your single friends. Have everyone bring photos of their ex lovers. Have a nice BBQ and burn them!
Get a job at Hallmark and fuck with every V-Day card, substituting "love" for "douche" thus causing breakups and general emotional upset world-wide. Misery loves Hallmark.
Carry a sharpie with you at all times and doodle a broken line on hearts everywhere you go.
Pop Valentine's Day balloons.
Just think of it this way: every couple out there that is spending a crap load of money on flowers, dinner, and chocolates will end up having the same sex they had the night before for free. At least you're saving $150 by not celebrating Valentine's Day.
Don't mope *too* much! Seriously, you're not the only single lady or gent out there!
Give your dog a bouquet of roses and a box of doggie-safe chocolates.
If you don't have a dog, rescue one, that way you'll have someone to love and love you (and remember, unlike a lover, a four legged friend should always be for life!).
I'm a huge believer in random acts of kindness. Do something for someone just 'cause. As an added bonus, giving someone else the unexpected warm and fuzzies will make you feel that way too.
Compose some sarcastic Valentine's Day haiku poems…..
"Tomorrow we shall
Dine on a whole ocean of
Half priced candy hearts"  ~ Hello Sailor 2013
Lots and Lots of Valentines Love, Sailor xox